Trouble viewing this email? Click here.
VIEW ONLINE VERSION | SUBSCRIBE | SEND TO A FRIEND | VISIT OSHO.COM
| | |
| --- | --- |
| | International Newsletter |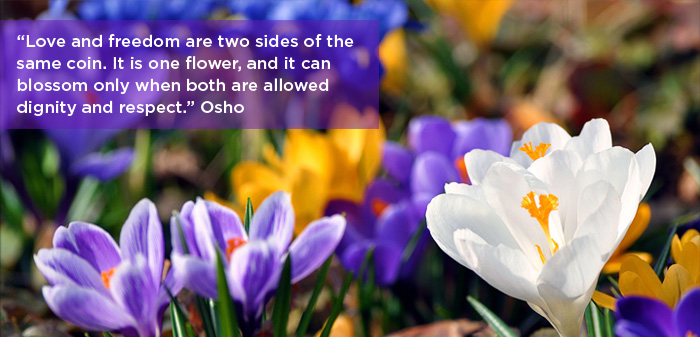 Love Yourself and Watch



"

We begin with one of the most profound sutras of Gautama the Buddha:



"

Love yourself and watch – today, tomorrow, always.



"

Love Yourself

…





"

Love is the nourishment for the soul. Just as food is to the body, so love is to the soul. Without food the body is weak, without love the soul is weak.

…"

Read More>>

Decision-Making



"

Decision is good when it comes out of life; it is bad when it comes only out of the head. And when it comes only out of the

head it is never decisive; it is always a conflict. The alternatives remain open and the mind goes on and on, from this side to that. That's how the mind creates conflict.

…"

Read More>>

Vivek Vida


I was brought up by an Iranian mother in Canada and have been working as an art dealer and curator in Toronto. I began painting in oils at the age of five, and loved my job passionately

as creativity and art are what drive me. However, I found myself going through.

…

Read More>>

Joy Is Light


Osho,
I am so full of joy – and yet full of fear.

"

Give all your energy to joy, and fear will disappear. Ignore fear, don't pay any attention to fear, because the more attention you pay to it, the longer it will linger on. Pour yourself totally in the direction from where joy is arising, and fear will disappear just as darkness disappears when you bring light in.

…"

Read More>>

sciences to be developed, because man's mind is in such a tension, in so much misery, in so much anguish that he has to use alcohol, marijuana, hashish, opium and all kinds of drugs just to forget, just to get rid of all the anxieties although he knows it is only temporary.

…"

Read More>>

OSHO Meditation & Monsoon Festival 2013
OSHO Transformation Tarot Launch

"

Live as Dangerously as Possible

" –

Osho
Wellness and Vitality – 24-27 October 2013 – A Meditation Event in a Thermal Spa – Lago di Garda, Italy
OSHO International YouTube Channel (English) just became 7 years old. The number of viewers have gone up to 30 million to celebrate the anniversary, so to say. Also, the number of subscribers to the channel grew in the last 8 months from 49,500 to 166,500.
OSHO Facebook page crossed million LIKES last month – more than 30,000 fans celebrated by joining the two minute guided silence meditation with Osho. We plotted the meditators on the world map, take a look And, in case, you missed the meditation or want to try it again – click here.…

Speak to Us of Love: Reflections on Kahlil Gibran's The Prophet
Emotions: Freedom from Anger, Jealousy and Fear
Introducing us to the most famous poems of the Lebanese poet Kahlil Gibran, Osho takes the reader into a mystical world, addressing essential issues in everybody's life. The famous verse that gives the title to this book is about "love" – but not the ordinary love we know from novels and movies

…

.
"This book is a simple guide to a better understanding of emotions. Anger, jealousy, and fear are the three big topics of this book, together with some simple meditations to deal with these emotions. The book consist of short quotes and text excerpts, giving the reader unusual and new insights

…."




October 2013 Newsletter
OSHO International
410 Park Ave, 15th Floor, New York, NY 10022