OSHO Monsoon Music and Meditation Festival Invitation 2018
STay
wild

&


keep
Meditating

&

Celebrating

This year's Monsoon Festival at the OSHO International Meditation Resort in Pune, India, will take place from August 11th – 15th 2018, a time when meditation attains a new depth and celebration a new height. 
Visitors from around the world will gather and participate in the intense energy-field that is the Meditation Resort, enhanced by the presence of so many meditators;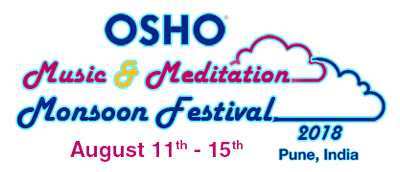 There will be a full range of OSHO Meditation Techniques happening throughout the day, starting at 6 am with OSHO Dynamic Meditation;
Many exciting night events filled with music, dance, painting, and much, much more;
An international Food Festival to tingle your taste buds;
Specially designed OSHO Multiversity courses, and unique meditations for daily life in Chuang Tzu Auditorium;
Plus a live music morning meditation in Chuang Tzu – surely a "don't miss!"





Frequently Asked Questions about the Monsoon Festival
Are there any special charges for the festival?
How to register for the festival?
Does the entry pass include accommodation and food?
Can we stay at the Meditation Resort during the festival?
Is there a special dress code?
What is the point of wearing maroon robes?
Do we have to stay for all five days?
Do we have to book in advance?
For more information about the Osho International Meditation Resort, you can read the Meditation Resort FAQs Here....