VIEW ONLINE VERSION | SUBSCRIBE | SEND TO A FRIEND | VISIT OSHO.COM
International Newsletter
July, 2013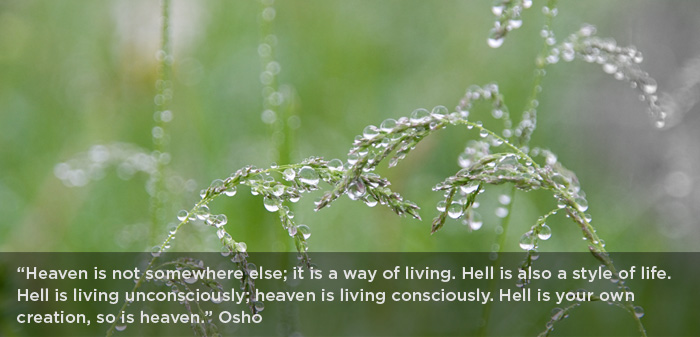 Have a Heart!


I have been experiencing pain of varying degrees in my chest for some years. It disappears when I love, when I melt.…

"It is not physical; it is certainly concerned with relaxation, total melting, forgetting oneself.

…"

Read More>>

The Art of Listening



"

Your mind is continuously bombarded from all sides by all kinds of thoughts. To protect itself, each mind has created a subtle wall of buffers so those thoughts are turned back, they

don't enter your mind. It is basically good, but then slowly those buffers have grown so much that now they don't allow anything in.

…"

Read More>>

Kojevin Yevgeny


My name is Kojevin Yevgeny. Right now I am sitting peacefully at the OSHO International Meditation Resort but I have gone through a lot to be able to do so.

I was President of the Black

Sea (Chernomorskogo) Fleet, and I held the rank of admiral. A few times in my life.

…

Read More>>

When the Dream Is Over


Whatever I have achieved seems lost in a fog, resolved together with my failures. Like smoke I feel, but through the smoke a

tremendous sadness arises like a sharp rock with a velvet covering. Osho, I can't perceive the end of it – or is there no end?



"

Many should feel jealous of you. To know that all has failed is the beginning of a new journey.

…"

Read More>>

The Master Key



"

Man consists of three layers. The body – the most visible. The being – the most invisible. And the mind – in between.


"

The mind is a good mechanism, but not a good master.


"

It can serve you if you are the master and the mind is the servant.

…"

Read More>>

OSHO Meditation & Monsoon Masti Festival 2013


The magical monsoon rains in Pune, India, bathe the lush green premises of the OSHO International Meditation Resort. With peacocks calling and birds twittering all around, OSHO Meditations reach greater depths, and the celebrations reach greater heights. Come and join the hundreds of visitors from around the world in this high energy field from August 11 to 15, 2013.

New summer and monsoon pricing now in effect:
Hot summer in India brings a big relief for many Osho friends who come from very cold winters in Europe & Russia. Add the new discounted summer and monsoon pricing to that, and the visit to OSHO International Meditation Resort becomes choiceless.
OSHO Transformation Tarot Launch
Enchanting Musical Performances at This Monsoon Festival 2013

Speak to Us of Love
The Art of Living and Dying
Introducing us to the most famous poems of the Lebanese poet Kahlil Gibran, Osho takes the reader into a mystical world, addressing essential issues in everybody's life. The famous verse that gives the title to this book is about "love" – but not the ordinary love we know from novels and movies.

…

Why are we afraid of death? Should we tell someone they are dying? Is reincarnation true?

With depth, clarity, compassion, and even humor, Osho answers the questions we all have about this most sacred of mysteries and offers practical guidance for meditation

….




July 2013 Newsletter
OSHO International
410 Park Ave, 15th Floor, New York, NY 10022