Trouble viewing this email? Click here.
VIEW ONLINE VERSION | SUBSCRIBE | SEND TO A FRIEND | VISIT OSHO.COM
International Newsletter
August, 2013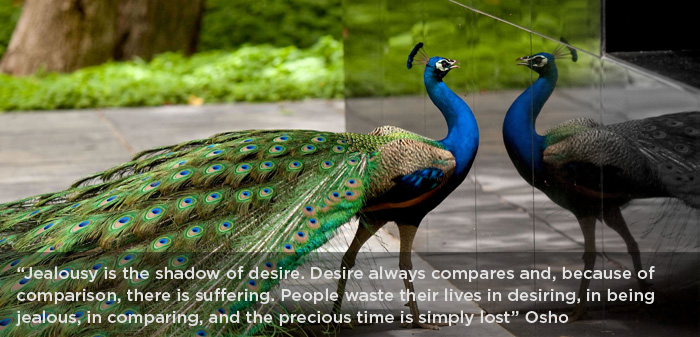 Mirror, Mirror on the Wall, Show Me Why I Always Fall


My partner acts jealous and it feels as if he makes me more important than I am.

"Not jealous – I think he feels that he is inferior. You are using the wrong word. He thinks that you are a goddess and he is worthless. Is that what it is? Then it is not jealousy!

…."

Read More>>

Touching as a Feather


When: Do it many times during the day.
Duration: Even for a moment is good but as a meditation at least 40 minutes.

Step 1:

"

Just sitting on a chair or in the train, close your eyes and put your palms lightly on your eyes, without pressing.


"

In a relaxed mind thoughts cannot move; they get frozen. They live through tension. So when the eyes

…."

Read More>>

Prem Siyari


Who is the most blessed person in the world right now? The answer is Prem Siyari, my sannyas name. Presently I am sitting in paradise: Zorba the Buddha poolside eatery that is part of the OSHO International Meditation Resort in Pune,

India. The setting is just like being in the countryside, surrounded by nature with rolling hills, large green.

…

Read More>>

On Overwhelm?


Often a feeling that I can't describe fills my heart and my whole being. It is there in deep love – but a similar feeling also

comes up in fear, anguish, pain, helplessness and frustration.



"

There is certainly something very similar in very different emotions: the overwhelmingness. It may be love

…."

Read More>>

only sick people become interested in health. The moment that you have become healthy… coming out of your sickness, you will feel health but when it becomes your natural experience of every day, every moment, you don't have any contrast of sickness to compare

…."

Read More>>

OSHO Meditation & Monsoon Masti Festival 2013


The magical monsoon rains in Pune, India, bathe the lush green premises of the OSHO International Meditation Resort. With peacocks calling and birds twittering all around, OSHO Meditations reach greater depths, and the celebrations reach greater heights. Come and join the hundreds of visitors from around the world in this high energy field from August 11 to 15, 2013.

The Right Upbringing: Osho's thoughts on helping a child become independent – Parenting
Children need to be taken care of, they need your help, but they don't need to be made dependent on you. The only way you can help is to make them independent.

They are strangers in the world. You can keep an eye on them so that they do not fall into a ditch, but there is no need to enslave them just to save them from the ditch….
No Computer Is as Powerful as the Human Mind – The Osho Column


"

The whole misery of science is that mind is using its energy. But, mind is a negative force; it cannot use anything creatively, it needs a master. Mind is a servant. Do you have a master?



"

So to me the question is… meditation brings the master in. It makes you fully aware and conscious that the mind is your instrument. Now, whatever you want to do with it you can do. And, if you can put it aside and you can remain in absolute silence.

…"

Meditation, and the beauty of the OSHO International Meditation Resort, continues to touch many celebrities, in India and abroad.
OSHO Transformation Tarot Launch

Speak to Us of Love
The Book of Children
Introducing us to the most famous poems of the Lebanese poet Kahlil Gibran, Osho takes the reader into a mystical world, addressing essential issues in everybody's life. The famous verse that gives the title to this book is about "love" – but not the ordinary love we know from novels and movies. Speak to us of Love gives a taste of a contemporary mystic at work, trying to disrupt our dreams, illusions, and the state of unconsciousness that prevents us from enjoying life to the fullest.
This is about and for the millions of people

…

.
"Look into the eyes of a child – you cannot find anything deeper. The eyes of a child are an abyss, there is no bottom to them." Osho
Children have an authentic freedom. They are joyful, playful, and naturally creative. But by the time they grow up, most children have been sacrificed to the gods of "productivity" and good behavior to the extent that only nostalgia for childhood remains. Osho says, "It is the child's experience that haunts intelligent people their whole life. They want it again – the same innocence, the same wonder, the same beauty

….





August 2013 Newsletter
OSHO International
410 Park Ave, 15th Floor, New York, NY 10022