Trouble viewing this email? Click here.
VIEW ONLINE VERSION | SUBSCRIBE | SEND TO A FRIEND | VISIT OSHO.COM
Newsletter
December, 2013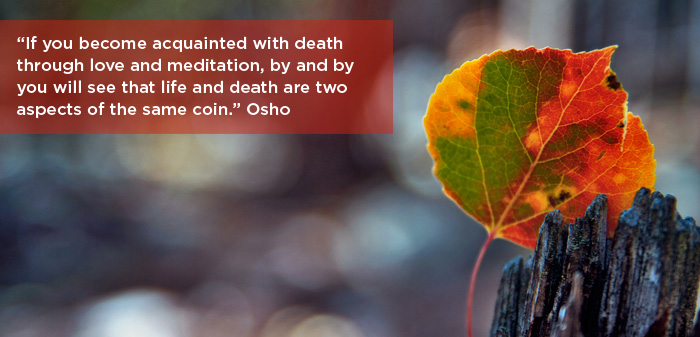 Your Life Is Your Own Creation.... Got It?


Osho,
Through meditating, sometimes I feel like withdrawing from people and going away to be alone so I can really go deep into myself and be independent. But this upsets my girlfriend. What should I do?



"

You are misinterpreting. You are interpreting interdependence as dependence. That is a wrong notion, and because of that wrong notion, a wrong desire arises: how to be independent. Out of one error another error arises.

…"

Read More>>

For the Traveler


When:

"

Whenever you find time. There is no need to make a fixed time. Use whatsoever time is available. In the bathroom when

you have ten minutes, just sit under the shower and meditate. In the morning, in the afternoon, just four or five times, for small intervals – just five minutes – meditate, and you will see that it becomes a constant nourishment.

Duration:

"

Just for a few minutes.

Step 1: Relax the Breathing


"

Relax the breathing system, nothing else – there is no need to relax the whole body.

…"

Read More>>

Dhyan Shakti


If you are passing by the lush green Buddha Grove sometimes you see huge, life-size paintings, their freshness beckoning you from the easel.

They are painted by meditators who don't know how to paint, meditators who are guided by facilitators who are not trained as painters! This is no surprise because, "Creativity is our nature," says Dhyan Shakti, the creator of this course.

Originally from China, Shakti lives in Kiev, Ukraine, where she runs an Internet shop.

…

Read More>>

Therapeutic Madness


Osho,
If people become authentic and natural, and if they don't smile because a smile is phony, and if

they go on screaming and shouting in the streets, what will happen to the world?

"Many things will happen to the world. First, wars will become impossible. There will be no Vietnams and no Israels, because people will never accumulate so much anger in them that they have to kill, and kill millions. Many things will happen to the world if people are natural.…"
Read More>>

Real Health Is Inner Health



"

Now, there are masters who say, 'Whatsoever you want, you will get it through meditation. Money will pour in. Just ask in

deep meditation and it is going to happen.'



"

This is speaking the language of your desire. The truth is just the opposite. If you ask me, if you really meditate you will be a failure in life, an utter failure. If you are succeeding, even that success will disappear because meditation will make you so relaxed, so nonviolent, so loving, so noncompetitive, non-egoistic, that who cares for success?

…"

Read More>>

OUR CURRENT BESTSELLERS
Speak to Us of Love
Emotions

"Introducing us to the most famous poems of the Lebanese poet Kahlil Gibran, Osho takes the reader into a mystical world

…."

"This book is a simple guide to a better understanding of emotions. Anger, jealousy, and fear are the three big

…."




December 2013 Newsletter
OSHO International
410 Park Ave, 15th Floor, New York, NY 10022